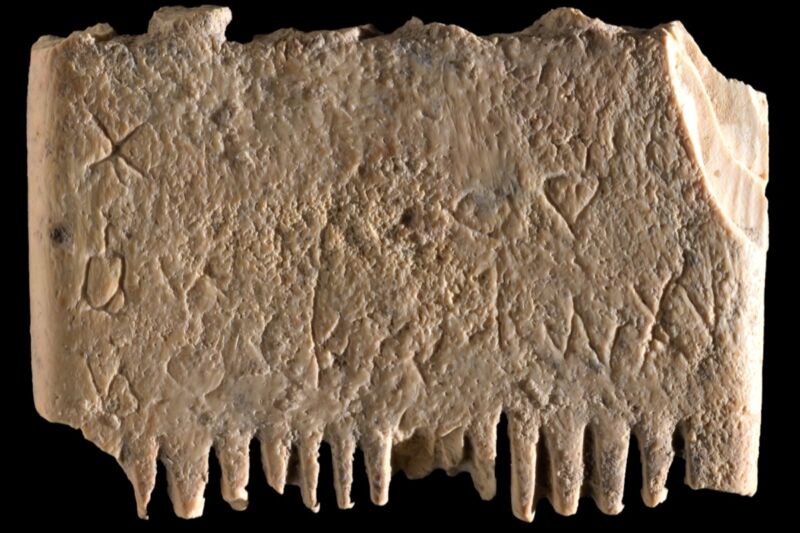 A number of years in the past, archaeologists unearthed a small ivory comb at Tel Lachsich in Israel, as soon as a serious Canaanite city-state within the second millennium BCE.  However it wasn't till final December that somebody realized the comb had an inscription utilizing early pictograph symbols of the primary alphabet. As soon as deciphered, the inscription turned out to be a spell for stopping an infestation of head lice, in accordance with a brand new paper revealed within the Jerusalem Journal of Archaeology.
"That is the primary sentence ever discovered within the Canaanite language in Israel," stated co-author Yosef Garfinkel, an archaeologist with the Hebrew College of Jerusalem. "There are Canaanites in Ugarit in Syria, however they write in a distinct script, not the alphabet that's used until at present. The Canaanite cities are talked about in Egyptian paperwork, the Amarna letters that had been written in Akkadian, and within the Hebrew Bible. The comb inscription is direct proof for the usage of the alphabet in every day actions some 3,700 years in the past. This can be a landmark within the historical past of the human capability to put in writing."
Whereas early writing methods emerged in Mesopotamia and Egypt over 5,000 years in the past, they used symbols quite than a bona fide alphabet, which appeared considerably later, round 1800 BCE. Accordingly to the authors, little is understood about this primary alphabet as a result of so few inscriptions have survived that predate the 13th century BCE—only a few letters, perhaps a phrase or two, normally missing context. "Thus, it is rather doubtless that almost all writing was carried out on perishable supplies which have decayed over time," Garfinkel et al. wrote. Because the 1930s, the Lachsich website has yielded a dozen or so inscription fragments from between the 13th and 12th centuries BCE, suggesting the city-state and surrounding area performed a number one function within the alphabet's early historical past.
Learn eight remaining paragraphs | Feedback